PThe widespread use of high-capacity NAND and eMMC memories makes programming time critical to production efficiency. The programming operation, if it's realized on-line during the PCB assembly process, often slows down the technological process. Therefore, such devices in mass production are programmed off-line, before they are fed to the assembly line. However, not wanting to sacrifice the most convenient form - In-System Programming (ISP) integrated in the production process with a functional or structural testing operation, the only right strategy is to ensure the maximum possible programming speed. Then appear the problems with fast data transmission, with interferences on too long communication cables – it means problems with the quality of signals.
The method of dealing with this problem is well known - the maximum shortening of connections with the transmission of high-speed signals. So SMH Technology has adapted its' FlashRunner 2.0 leading ISP programming technology in this direction by launching a new innovative product - FlashRunner High-Speed. It contains active miniature modules that drive programming signals. They can be placed very close to the device being programmed, reducing the critical length of connections to a minimum. The modules are controlled from the central unit via high-speed USB 3.1 interfaces. The control unit, in turn, is managed from the level of the supervisory system, which may be a PC, an ATE automatic tester, a functional tester or a programming station. An Ethernet or a USB interface is used for this matter.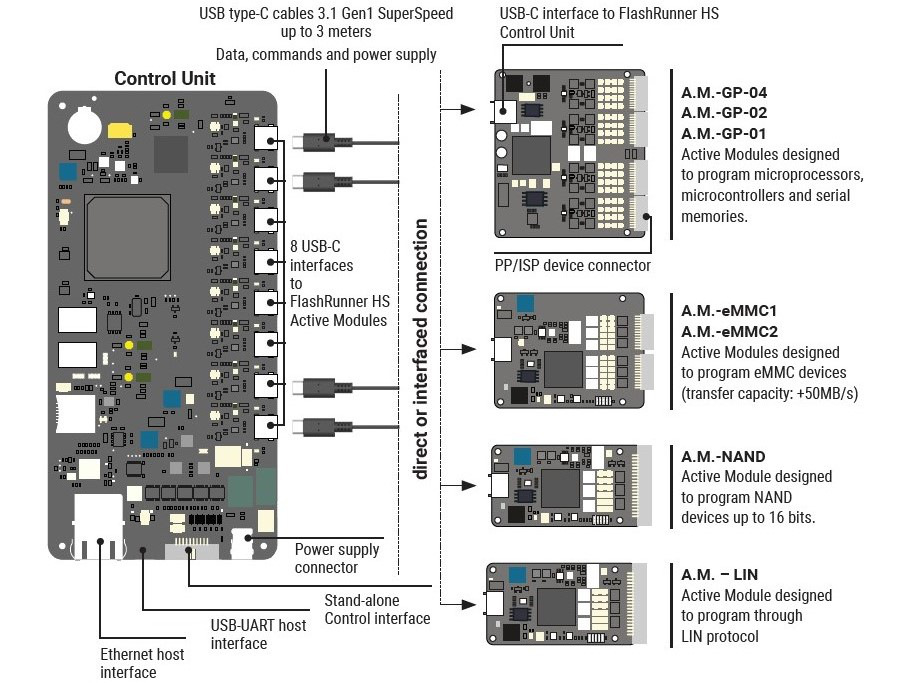 1, 2 or 4 channel active modules are available. They can be general-purpose, i.e. dedicated for microcontrollers and serial memories, or specialized for eMMC memories or for NAND memories. Active modules can also be designed for particular transmission protocols, for example LIN. The options with the relay barriers are also available. Other specialized drivers in the future can be developed for new requirements. The new High-Speed solution is therefore also a step towards an open, easily adaptable architecture.
FlashRunner High-Speed is fully prepared for integration in automatic testers and for operation as an independent programming station. A typical configuration is shown in the block diagram below.

The technical parameters look interesting:
FlashRunner High-Speed
Universal High-Speed ISP programmer based on an 8-channel central unit controlling active front-end modules.
Control Unit
8-channel control unit of FlashRunner High-Speed programmer that controls via USB 3.1. active front-end modules.
Processor: Intel SOC FPGA with 800 MHz dual core ARM Cortex-A9 
Memory: 1 GB RAM DDR3, 256 GB eMMC
Micro SD (up to 256 GB) reader
8-independant channels controlling active front-end modules – each can program different devices concurrently
Unit for integration in ATE
Dimensions: 170 x 83 x 19 mm
Communication with PC/ATE: LAN 1Gbps, digitaly optoizolated USB-UART, digitaly optoizolated parralel interface
Communication with active front-end modules: USB 3.1
Clock/Calendar
Status and operation LEDs
Active front-end Modules
Active micro-modules of the FlashRunner High Speed ISP programmer placed in the immediate vicinity of the programable devices, controlled from control unit via USB 3.1 C-type connectors. They ensure the quality of the waveforms on the pins of programmed device.
Options:

1, 2 or 4 channel general purpose modules (microcontrollers, serial memories)
1 or 2 channels eMMC modules
1 channel NAND modules
1 channel LIN protocol modules

Small dimensions: eg 63 x 32 x 12 mm
Optional relay barriers
Protocols: eMMC, NAND, BDM, JTAG, DAP, CSI, SPI, QuAD-SPI, I2C, UART, MC2W, ISSP, SWd, ICSP, EICSP, MDI, PPM, PDI, SWIM, …
Innovative high-speed drivers
Communication frequency towards device up to 50 MHz
Programmable output voltage
Continuous voltage and current monitoring of output power lines
External relay power line and command line
Status and operation LEDs
Software
New software allows to supervise the programming operation directly from a PC or allows for easy integration within ATE testers. It has many built-in functionalities:
Device test
Watchdog
Encryption and secure data transfer
Easy integration with ATE/LabView/CVI using DLL libraries
Overvoltage and undervoltage detection during programming
Serialization
Dynamic pinout management
Conditional erase
On-line knowledge database
Operation counters, log files, production reports
Project wizards
User permission management
Finally, let's pay attention to the ergonomics and Italian design of FlashRunner High-Speed. It's a pity that it will probably disappear somewhere in the tester's industrial housing. However, it proves the diligence of workmanship and attention to details, not only the highest-class technical parameters. That is why we are convinced that FlashRunner is the right solution for today and tomorrow.